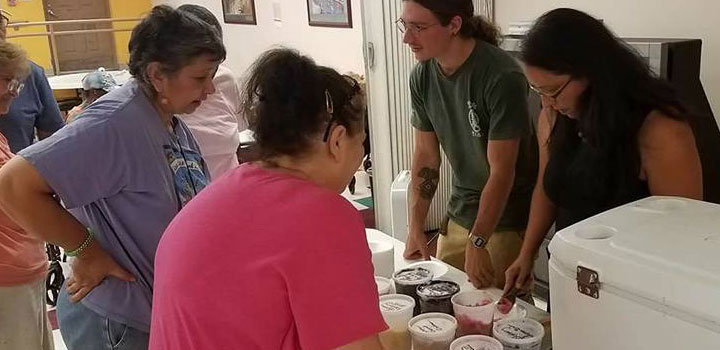 Become a Volunteer and engage directly with the community!
With Yanawana Herbolarios you have the opportunity to personally impact your community's sustainability and health. Because of the service of our volunteers, entire neighborhoods begin to thrive anew. Through this work, families achieve the health and independence they need to create a balanced life.
Volunteer for an Event
Do you have an interest in working with a vibrant community organization? Unsure if you can commit to volunteering regularly? That's ok, you can still contribute! Choose an event that needs volunteers from the calendar and contact the event organizer.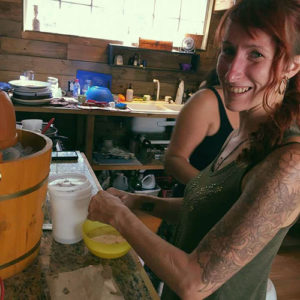 Become a Yerbolario!
Are you interested in volunteering on a regular basis? Would you like to be part of a highly trained team of sustainability-minded, earth loving, compassionate people dedicated to serving all of their relations? Are you ready to push yourself and learn new skills? Then this might be the opportunity for you! There are many ways to volunteer with Yanawana. Read through the quick summaries below to learn about our volunteer teams and contact us if you are interested in joining us!
Wildcrafting: This team wildcrafts plant material for medicine making. Volunteers with this team will learn how to ethically, sustainably, and responsibly harvest plant materials. As volunteers accompany YH staff into the field to assist with the sustainable harvest and processing of local plants needed for botanical medicine making, they will also have the opportunity to learn basic botany and plant identification skills, some ethnobotany, traditional processing and wild care skills, and much more.
Apothecary: This team turns the plants the wildcrafting team harvested into botanical medicine. Apothecary volunteers will have the opportunity to learn YH standard operating procedures and GMP protocols while learning basic and advance medicine making skills, formula creation, plant pharmacology, and more, all while serving the community. Volunteers are able to help out behind the scenes or during one of our mobile clinics.
Research: Volunteers will be supplied with specific topics to research that may be completed independently. These are a great way to contribute if you cannot attend meetings, events, or group sessions. Research topics will include local area resources, nonprofit operations, ethnobotany and native plants, clinical publications, grants and funding opportunities, and others as needed.
Interpretation: This team bridges the gap between communication issues revolving around language. Volunteers with experience with Spanish, Nahuatl, Yucatec Maya, and other indigenous language skills are needed to translate educational materials, forms, client directions, and marketing information. Volunteers who are willing to interface directly with the community are needed to assist with outreach and direct translation during clinics locally and/or during trips. Any volunteers with experience with plants or remedios would be greatly appreciated.
Clinic: This team consists of front desk administrators, clinicians (herbalists, bodyworkers, allopathic, etc), apothecarists, and translators. This is the team responsible for running our free clinics. Participation on this team requires cultural awareness training for those members interacting with the public and the appropriate training/certifications for those acting in a clinical role. During clinic, volunteers will have the opportunity to directly interface with the community, assisting clients with paperwork, operation flow, clinic set up, and more. Skilled volunteers with experience as herbalists, body workers, healthcare professionals, and traditional healers are encouraged to volunteer their services during YH clinics for the benefit of the community.
Post-Disaster: This team includes clinic and build team members. All volunteers who participate on this team will be instructed in first aid, survival, and cultural awareness. This team provides assistance in post disaster situations locally and statewide and runs as a sustainable off-grid unit. Build team members will both establish the camp/FA/triage station and assist the local community with clearing debris and searches. Clinic team members will run a first aid/triage station and tend to the community's emergency health needs.
Education: Volunteers with skills and knowledge in permaculture, nutrition, first aid, survival, handiwork, food preservation, and other lost ancestral skills are needed to assist us with our educational programs. Ideal volunteers are bilingual, comfortable speaking in front of folks, creative and improvisational thinking, and are often told they "make a good teacher".
Media: Volunteers with a flair for communication are needed to help YH meet its goals in the community. Volunteers with FB and Instagram skills, videography and photography experience, and marketing skills are encouraged.
Fundraising Event Planning: Volunteers will assist with planning fundraising events for Yanawana. Volunteers will need to be able to work independently and as a team to identify and secure event hosting, secure vendor sponsorships, obtain auction item donations, collect supplies, arrange any necessary entertainment, etc.
Community Outreach: Yanawana tables at community events and markets. Volunteers with a social streak are needed to run the tables at these events, sharing information on our mission and vision about our organization with the public, serving tea, and selling apothecary items (to help support our clinics).
Build-out Team: YH is seeking volunteers with experience in carpentry, plumbing, tiling, electrical, and like skills as well as people willing to roll up their sleeves and serve as needed to prepare work spaces, establish garden beds, etc.
Become an Ambassador
Looking for a way to make a difference but you don't have the time to volunteer? You can become an ambassador by starting a crowdfunding campaign using an online platform like Facebook, GoFundMe, or Chuffed, and we'll provide the info needed to be successful. Contact Us today to get started!
Looking for additional ways to make a difference? You can contribute to our projects and campaigns by making an in-kind donation. Check out our Wish List to see what items we need to further the Yanawana Herbolarios mission.