Yanawana is passionate about free/affordable and accessible healthcare for all. We also firmly believe that access should include holistic modalities. Our healthcare clinics integrate multiple modalities whenever possible in order to bring our clients an integrative heatlh experience designed to compassionately and holistically address their personal healthcare needs. These services are free to the community, and integral to improving health outcomes in the communities we serve.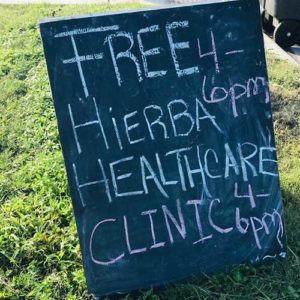 The People's Clinic 
Beginning in May 2019, Yanawana Herbolarios will be offering free monthly botanical integrative healthcare clinics at multiple Bexar and Wilson County locations. These clinics will be an opportunity for the uninsured, under-insured, and under-served to receive free competent integrative botanical healthcare and be connected to vital allopathic and alternative healthcare resources. Whenever possible, traditional (Indigenous) healers, doulas, bodyworkers, mental health care providers, and allopathic healers will be available for clients to consult at the clinic.
 2019 Clinic Schedule
Elmendorf
Location: Texas Ice House; 12291 US-181, SATX 78223
Dates: Second Friday of each month beginning in May; May 10, June 14, July 12, August, 9, September 13, October 11, November 8, December 13
Time: 3pm-7pm, sign up to be seen begins at 2:30pm and last sign up to be seen accepted at 7:45pm.
Floresville
TBA
District 1
TBA
District 2
TBA
District 3
TBA
District 5
TBA
We feel strongly that healthcare is a human right, do you? Help Yanawana Herbolarios bring quality, compassionate healthcare to those who need it by donating today.