Yanawana Herbolarios offers several programs to directly benefit the uninsured, under-insured and under-served. We offer healthcare clinics that integrate the best of allopathic and botanical medicine, nutrition, and wellness. These services are free to the community, and integral to improving health outcomes in the communities we serve.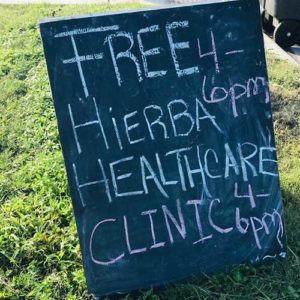 Botanical Integrative Healthcare Clinics
Beginning in 2019, Yanawana Herbolarios will be offering free weekly botanical integrative healthcare clinics at their headquarters. These clinics will be an opportunity for the uninsured, under-insured, and under-served to receive competent, free botanical healthcare and be connected to vital allopathic and alternative healthcare resources.
Mobile Pop-Up Healthcare Clinics
These free botanical healthcare clinics will rotate through varying locations throughout the east side, west side, and south side of San Antonio. Clients requiring additional health care services will be referred to our weekly clinic conducted at the Yanawana Herbolarios headquarters.
Family Healthcare Services
Offered through the Botanical Integrative Healthcare Clinics, this special program will be centered on creating healthy families. Services provided include doula care, enrollment assistance (e.g. WIC, Lone Star), family planning, women's health education classes, and domestic violence education.
Home Healthcare Services
Launching in 2019, this program will bring healthcare to home-bound seniors identified through our partnership with the Ella Austin Community Center. Home services will include nutritional counseling, food preservation instruction, assistance with maintaining home gardens, and botanical healthcare.
We feel strongly that healthcare is a human right, do you? Help Yanawana Herbolarios bring quality, compassionate healthcare to those who need it by donating today.